---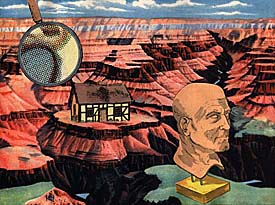 WALLET by Shane Cooper
It was about 6:30 pm when I noticed I was hungry again. I got out of the car and started walking around Venice Beach. After not a whole lot of luck finding an ATM, I noticed a college type guy heading down into an alley by Pick-n-Save, so I decided he'd be the guy and I followed him. I got right up behind him before he noticed me. He turned around and said "Yes?" I said "Excuse me, but can you come here, I'm going to kick your ass." He looked scared, I stepped closer, and punched him in the neck. He fell over, and I knelt down and bashed his head again and again on the slimy concrete in the forming pool of his own blood. I then kicked his now soft skull repeatedly against the brick wall, being carefull not to cake up the bottoms of my shoes with skin. "That'll do."

I searched his pockets for his wallet, and found one. I opened it up. "Shit. $120.00 !" I tossed the money in the trash, put the empty wallet in my pocket, and walked out of the alley trying to scuff off my shoes in the process. I had a craving for the Mexican place across the street, so I just went there.

"Can I help you sir? Smoking or non," he asked.

"Non."

I looked over the menu. I wasn't all that hungry after all. He came back. "I'll have just two plain tacos and a coke."

"Ok sir."

I waited, listening to the cheery restaurant.

"Here you good sir."

"Thanksssssssssssssssssssss."

After the first taco, I got full. Then the bill came. I had to put on my usual show.

"Excuse me, waiter?"

"Yes?"

"I seem to have no money in my wallet. Do you know where the nearest ATM is?"

"Well, there's one in the mini-mall next to Yogurt Bash."

I pulled the college guy's wallet from my pocket. I opened it up, pretending it was mine. "See. No money. Shucks."

The waiter raised an eyebrow.

"I'll tell you what. I'm just gonna run over to the ATM and get some twenties. I'll leave my wallet with you as collateral. It's got my ID, credit cards, everything is in it." I flipped through it showing him all the college guy's ID and credit cards and stuff.

I walked out of the restaurant, got in my car, and drove home. Does anyone know where I can get more other-people's wallets?
---

[ Home ] [ Contents ] [ Contributors ] [ Search ] [ Submit ]





Instant Classics - The Culture Quick Mart
©2007 Instant Classics